"Have you written anything new lately?" is a question occasionally asked of a songwriter.   The answers could range from heaps to none or I can't get started, the dreaded Writer's block but in reality is totally individual.   The wonderful teacher Pat Pattison has a "Song-a-Day Challenge" & one of his truisms is the "90% of what you write is not your best work", which as he eloquently states is a licence to write fearlessly & write more than occasional crap.  Personally I like to try & do the work part when I have the time but the inspiration is another story.   Whether you would choose to share the 90% is an individual choice or the right of some advertising copywriters (Toyota  Australia's "Your Street Ads! For example).
 The magical or inspirational part of the writing is the "song seed" or the idea that pops in your head & you go hmmm that could be a song.  It might be a phrase, a title, a tune, a comment, but different things to different writers can stimulate that process.  I make a conscious effort to write down or record each seed in my song-writing computer program so that when I have the clear head & the time to concentrate for long enough.   Turning it into a song more often than not takes a bit more time.  The pure joy of getting the whole lot in one sitting is in my experience rare but great if it happens.  I have taken 4 months to finish songs, writing & reviewing, peer sharing or submitting in workshops can be a longer process, but hopefully hones it into something that tells the story exactly the way you intended.    (In her own Sweet Time – for my daughter's 21st , was a song I wanted to be perfect) & only this week I have finished re-writing a song that I had a critique on 2 years ago!  It has evolved with a different title but still the essence of what I intended.
 Life in its infinite forms often sends priorities that over-ride.    Beth Neilson-Chapman (a great soul & renowned writer – "This Kiss" for Faith Hill amongst many), told the story of how she went through a patch of not being able to finish a particular song.   Her mind would not allow her to progress a story!  She subsequently was diagnosed with a brain tumour.   Waking from the successful surgery, the first thing she did was astound her mother by asking for a pencil & paper.  She wrote down the line that had been blocked & finished the song!  (Wish I could remember the title but I had tears in my eyes listening to her beautiful story – well worth the time!).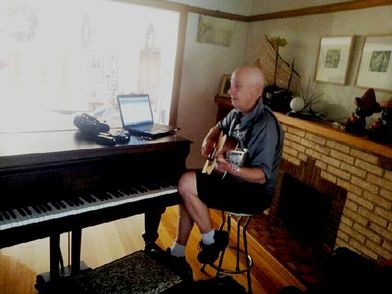 Anyways the reason for this blurb is my talented friend Craig Fraser & I have one piece of a fruit from our labours to share.   This is a demo version on my Soundcloud called "Last Chance Café" – please enjoy & feel free to comment – can always improve!