After regaling you with the story of Two Brothers last week and briefly touching down in Siena I feel a compulsion for my blog to stay in Italy and re-experience "Il dolce far niente" or "The sweetness of doing nothing", an art sometimes forgotten but perfected over centuries by the Italians (& probably many other cultures but doesn't sound as enticingly eloquent).  A good friend from Melbourne (Thanks Bluey!) had gracefully shared a contact for an apartment in Venice, Casa de Veronica which would allow us 5 days in the non-touristica areas of Venezia.  The one or 2 night stop-overs typically take in the Rialto Bridge & San Marco & become swamped by the gypsies like flies selling luminous blobs & spinning flyaways!  The instructions for the apartment seemed a little vague from Australia but later made a lot more sense!
 An address in Venice is not just a number or a street-name but an adventure that is difficult to describe from afar.  Suffice to say even our tourist guide, a native Venezian, showing us her hidden secrets of Venice confessed she would often go to the local square to allow her friend's to find her when visiting.  As it turned out we later discovered our apartment was on the "Hidden secrets" back-street pathway, which further added to the flavour of our stay.  We met our host at the local Vaporetta (water-taxi) station & were immediately enamoured with the rustic nature of our upstairs abode, complete with high wire washing line to expose our delicates to the world.    Over the next few days we were able to stumble & bumble our way to some form of competence at getting lost with style & having the satisfaction of finding our way home again!  We were able to shop & cook Aussie Italian style & even some public playing in the local square.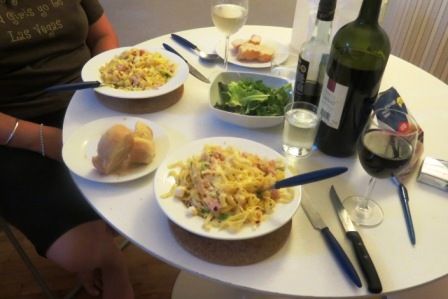 It was one evening whilst strumming some tunes in our local square that we encountered a street performer who had been foot juggling a young punter.  This top-hatted grease paint faced gentleman, a Greek fellow named Oxito, heard my playing & enticed me to perform a street-show with him on a nearby bridge, starting in 5 minutes.  The instructions were simple, a slow song, followed by a fast song then play whatever you want!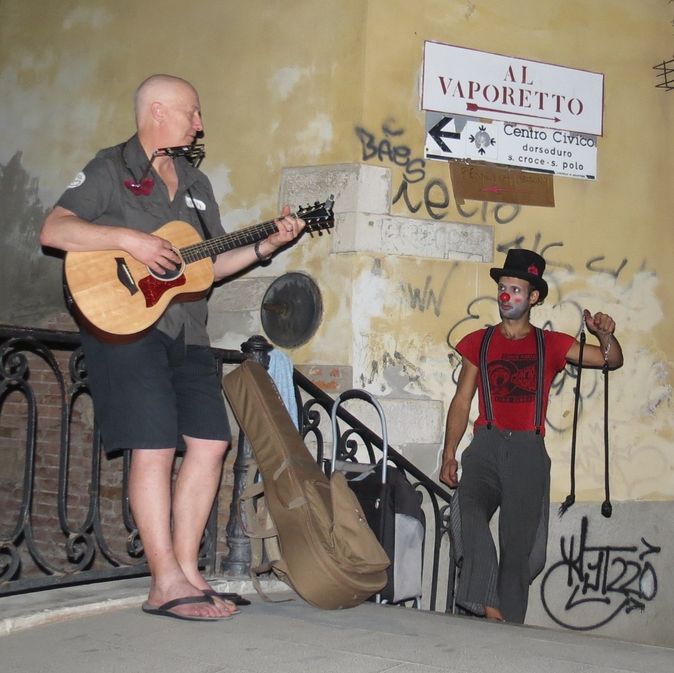 So I dually rolled out Lost in the Blue Horizon, with harmonica wailing & Oxito lit up his flaming sticks & juggled & walked his way across the hand rail of the bridge between the 2 street restaurants.  One Kool Kat inspired a rapid increase in tempo & heat as the flames spun past my head!   I finished with In her own Sweet Time, whilst Oxito filled his hat to rapturous applause.   The new show "One night in Venice" was a hit!
https://www.reverbnation.com/neilwisemusic/song/14942158-in-her-own-sweet-time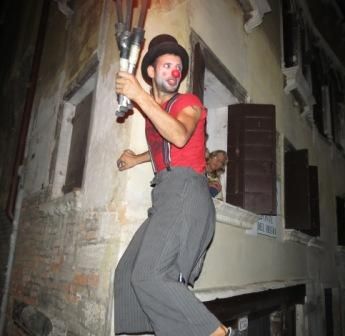 More photos of One Night in Venice @ Neil Wise Music Facebook Page
https://www.facebook.com/media/set/?set=a.368807396539856.90216.359866040767325&type=3