The air train from Newark Airport is cool but then the NJ Transit transfer to NY Penn is big and imposing with luggage then we just rolled with the wave of people into downtown subway.  Managed to get the A line train, going the wrong way for 2 stations! Then a couple of helpful New Yorkers gave us some good advice! & we were quickly heading uptown (would soon lock in the lingo!) then had trouble finding the elevator so the guns (biceps) are looking good.
 The hotel was only a block and was a small funkily renovated old hotel but staff were very friendly and we finally got settled and cleaned up about 4.30pm for some proper exploring. We were staying on West 55th street, just below Central Park about 8 blocks above Times Square. We walked downtown and received the full-on assault of the senses that New York provides with the bustle, horns & people wandering around looking and taking photos and trying to get on the big screen at Times Square. All the favourites were there, the Naked Cowboy, Statue of Liberty, New York Cops in force. We walked down to Eatily (a market with wine & restaurants mixed together) & had a couple of nice wines and meats cheese platter whilst waiting for our table in the Italian restaurant. Socialising the way New Yorkers do! Did Empire State at night (no Meg Ryan) with an audio commentary in NY style which told stories in an old NY accent & pointed out all the boroughs and buildings which helps with the orientation and then worked our way back to the hotel & a quick 7 hours gone!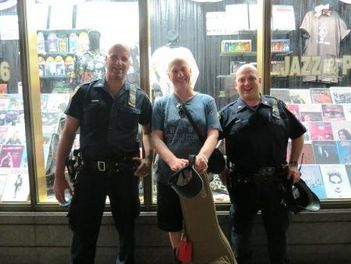 Day 2 we did a bit of Central Park but completed the homage to John Lennon via the Dakota & Strawberry Fields garden in the park on the upper west-side & moving and special memory. Then hiked down to Pier 84 to get our NYC water Taxi (next to the Intrepid on the aircraft carrier) & used the hop-on hop-off taxi to see Ground Zero memorial downtown. The new towers are close to being finished and a beautifully subtle tribute was overwhelmingly powerful and well worth doing.  Did a bit more water taxi and knocked off the Brooklyn Bridge, Statue of Liberty & Ellis Island on the way back to Pier 84. From there we walked down about 10 blocks to pick up the High Line, a garden & artworks & social community space on the old elevated railway, Bizarre but it works. It took us from Chelsea to the Meatpackers area and some peace time from the noise.  Across lower midtown we picked up the 1 -3 subway for a ride up to Grand Central Station & more walking and looking up and going wow!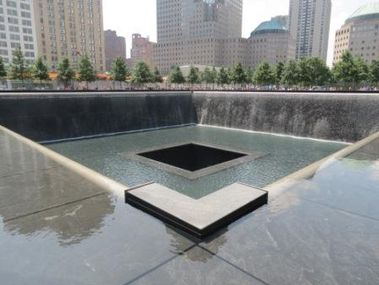 Day 3 we did a bit differently & used the legal bike hire (not the rabble of dodgies pushing at you) & used almost the whole 2 hours to do one lap of the park & it is huge with so many different styles of places to walk or ride or sunbake or jog.  The old mayor logged up 50 years jogging around the Jacqueline Onassis reservoir! We found Alice in Wonderland, the CP Zoo, the small yachts on the way to the MET (Metropolitan Museum of art). Man, you spend 5 days not even touching the sides.  It is a huge space with nooks and crannies and mezzanine levels and even a rooftop garden bar & a nice way to break up a 6 hour visit with a drink overlooking Central Park & the city skyline. So much to absorb and do I will let the pictures tell the story & off the Washington early curly the next day