Our dreams were partially found but in the end better as just dreams. The flight unveiled a spectacular snow capped Cascade Mountains in July, Xmas trees by the squi-millions the air was clean and greener than English countryside hence being called the Emerald City! Also home to the Space Needle, Boeing's aircraft assembly plants, Microsoft, Amazon.com, Costco, Nintendo of America, Starbucks (Can they be forgiven???). Seattle is an elongated ellipse island between Lake Washington & Elliott Bay with a long waterfront and very steep hills & about 5 different transport systems. Someone just couldn't make up their mind in the planning department! The original Seattle town was built on a mudflat with some serious sewage problems associated with the incoming tide and the settlers were those who didn't pursue the dream of gold in Canada & stayed in Seattle.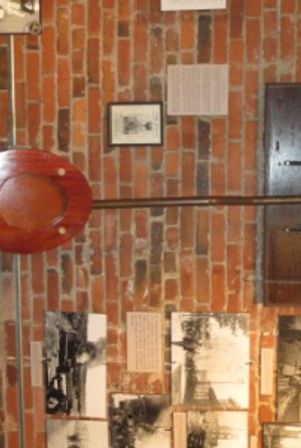 A huge fire in which no-one died burnt the whole city down and it was re-built on elevated streets with moats around the buildings and then earth & rock was moved to create more elevation and some hills steeper than Lombard in SFC! Under the elevated pavements ran the sewers, which as our tour guide so eloquently put, solved the exploding crapper backflow problem and has many years later given the city a unique tourist attraction. It was a 2 hour tour of the underground sewer that was like a full on comedy routine to 50 odd people. A must do!  A very quick visit to the world famous Pike Street Market! It is on the list of things you must do. It is on a hill with so many little nooks and crannies & stalls are a combination of Farmers Produce and permanent shops of all kinds, but in the end just the same as the Victoria Market. We heard on the news that night that Will Ferrell had been serving coffee in one of the shops.  The people appear pretty happy living here, despite it raining most of the time apparently although our 2 days were sunny and low 70s.  We met a young couple at breakfast from Texas who are full time musicians in a Celtic Rock Band called the Killdares from Dallas. Another great contact! Walking downtown there is as in most cities we have visited in the US, a highly visible array of the homeless & professional beggars, but plenty of ambassadors, park concierges, security & police so don't feel unsafe walking around.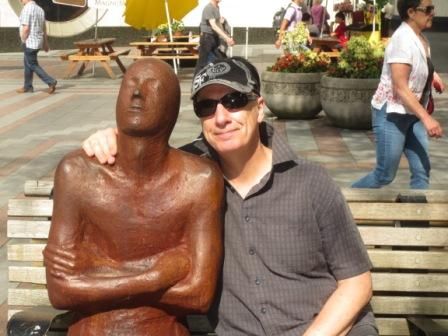 Also located an open Mic on Capitol Hill, Managed to swing a slot & met some more locals. We had dinner and a few drinks with a young fellow Dave who was happy for the company. Also an Asian Seattle local Edward who plays Country Swing!  An interesting array of acts including some brilliant and some average singer-songwriters, a rapper (same old s..!) & 2 banjo players & one of whom manufactures coffee machines and sells to Melbourne all the time! On the wall a few interesting ads for art shows including a 3 month Aboriginal Art Show at Seattle Art Museum so enough clues for me to play my co-written Lionel Rose song, which got a great reception & story travels well!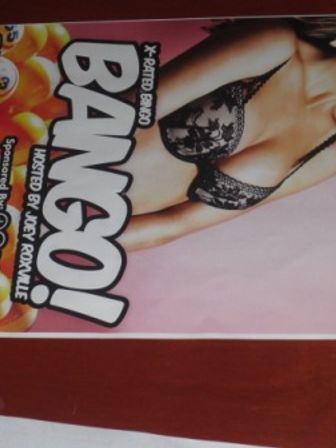 Bed early for a 5.30 am AMTRAK train to Vancouver but not a good omen to wake up to or pretend to sleep waiting for an early alarm & pouring rain heavier than Milford Sound, Then the news our train had de-railed before it arrived and we are now going to be bus-sed to Vancouver! Nowhere near as exciting but meet some more nice people from Atlanta & some Canadians and we are off again towards Vancouver and the Inside Passage